Hi all, in the last post, I shared with you some best audio baby monitor models coming from different brands and talked about its features as well as advantages and disadvantages. Today, I continue with a post about a very nice audio and motion baby monitor – Angelcare AC401 Review.
As you know, parents have several worries and considerations when they have children, especially in first time of parenting. However, the one thing all parents have in common is that they worry about the safety of their babies. This fears were eased somewhat when the first baby monitors were invented to help parents in monitoring their babies while they cannot stay close with their babies all day. Today, with the development of baby care product technology, baby monitors are equipped with features and function to provide parent peace of mind about safety of children.
I think that if you haven't known about baby monitor, that's time for you to think about it. I analyzed reasons for having a baby monitor in my post what is the best baby monitor; you can find more information on this post. But today, I want to write post Angelcare AC401 review. Let's scroll down to find down its features and function.
Overview about Angelcare AC401 baby monitor
I think sometimes you hear about this brand which is founded in 1997 with baby care product. Over years of development, Angelcare today exists in about 60 countries. To help parents not alone in new adventure of parenthood, Angelcare has launched various type of baby monitor being suitable for demand of different family. You can find more about models of baby monitor from Angelcare in our post: Angelcare baby monitor review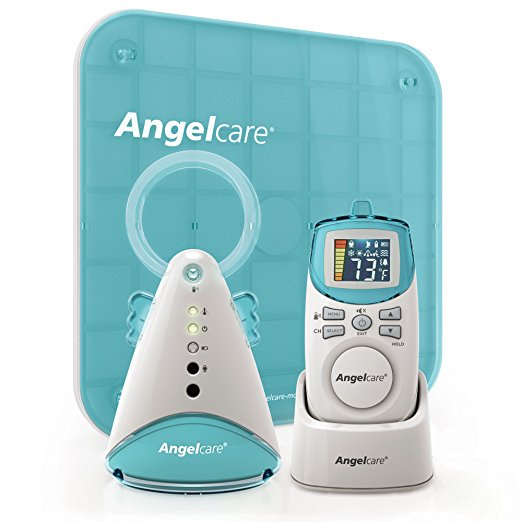 In this Angelcare AC401 review, I just mention to an audio and motion baby monitor – AC401. This baby monitor helps you in monitoring sounds from baby and detect motion by a movement sensor. AC401 is a combined baby monitor between audio and motion monitor. It means that this baby monitor picks up sounds from baby's room and transmits to parent unit and sends an alarm if the sound exceeds the preset level. Moreover, motion monitor function is performed with a sensitive reception pads to detect movement and motion of your baby.
This Angelcare AC401 audio and motion baby monitor has a good price range, near 100$ (depend on each time), so I think it is suitable for those who are looking for an affordable baby monitor with motion detection. As I know, movement and motion baby monitor often has high price, so I think Angelcare really offers a good deal. Moreover, some best video baby monitor models are not much cheaper than this one. Children often move even when he is sleeping but audio baby monitor just picks up sounds from him while in some dangerous case such as suffocation, there is no sounds. Therefore, it will be safer for your children if the baby monitor sends an alarm to parents if it doesn't detect any move in 20 seconds.
Angelcare AC401 Review – Product Features
Brands

Angelcare

Weight / Dimensions / Design

3.4 pounds

12.7 x 5.2 x 11.1 inches

The Angelcare AC401 baby monitor include two main parts like any other baby monitor including parent unit and baby unit; baby unit includes sound pick-up unit and movement sensor pad.

The white and blue color brings us simple and nice feeling. Function buttons are allocated below the color digital screen; I find it quite easy to operate on these buttons.

The charging device is a separate cradle.

Overall, I am satisfied with design of Angelcare AC401 baby monitor.

Accessories
You will receive these parts in box:

Instruction manual
Rechargeable Parent Unit
Charging cradle
Nursery Unit
Under-the-Mattress Movement Sensor Pad
2 AC adapters
4 AAA rechargeable batteries (for Parent Unit)

Warranty
1 year from the date of original purchase
Special Features

Provide 2 frequencies and 8 channels for optimal sound quality and minimal interference

The most important for an audio baby monitor is clear sound without any interference. So, you can easily hear your baby's sound even when there is some softest sound.

During testing time, there is no any false alarms thanks to its sensitivity set correctly. Various frequencies and channels with sensitivity dial found on the back of baby unit, and it can be adjusted helps us very much on picking sounds from baby's room.

After some time using this Angelcare AC401, I feel it really reliable.

Under-the-Mattress movement sensor pad for movement detection

One of the most unique functions of the Angelcare AC401 is that it relies mostly on movement and motion detection. A movement sensor will be designed to place under the mattress and manufacture also warns users that you cannot place it directly under your baby. So please take note this.

This sensitive reception pads picks up any movements, whether it is the child rolling over, breathing or playing. My baby is quite when he is sleeping, but the baby monitor still detect the breathing movement. And it sent no alarm to me even when I think my baby had no movement. But when I moved my baby out of crib, after 20 seconds, the parent unit received an alert. So, every time you take your baby out of the crib or bed, remember to disarm it by pressing function button on the parent unit.

I feel really comfortable with this function because I can solve my biggest concern about safety of my child.

However, I feel it's quite hard for parent to set up and place it in right position at the first time. But after reading carefully manual book and trial, I can positioned and hooked up correctly.

Portable and rechargeable parent unit

Like many other baby monitor, you must have an outlet power source near baby unit and can use battery for parent need. I bring it around home easily because the parent unit is quite small.

Nursery room temperature and sound light

To make sure baby room's temperature is not too hot and too cold without entering the room and waking up baby, I just need to sit here and look at the digital screen to know the temperature.

Sometimes, I don't need this function, but it really bring the convenience to parent.

For my own, sometimes I find it annoying but almost other parents find it useful.

The Angelcare AC401 baby monitor has good range (820 ft) but sometimes I forget to bring it so far. But this out of range indicator immediately send an alert.

I am satisfied with all features it provides. There are not so many features but each features it owns brings the convenience and comfort to users.

Notably, manufacture recommends parents to use this Angelcare AC401 audio and motion baby monitor for children from newborn to 24 months. After that, parents should remove the movement sensor pads from under the mattress and use it as an audio baby monitor only. This pad can be stored in dry place for re-use for your next newborn.

Of course, if your child is newborn but you want to use it as the audio baby monitor only, it's totally OK.

Technical Details

I think it is an excellent range for an audio.

Battery life: 4 hours, rechargeable

It is not excellent, just fair. There are many other baby monitors can last for over 10 hours like iBaby Monitor or Motorola Baby Monitor. However, this battery is rechargable or you can replace it with 4 AAA batteries so it's not big problem with battery life. However, I still prefer a baby monitor with longer battery life (but it's not first prior factor)

My rating points
9/10

In this price range, I appreciate all nice features it bring to me.

Price
 
What customer are saying
Word of mouth and real life reviews are the best ways for you to find out product. So, before determining if it is right for your baby or not, let's read some reviews from customers who are just parents like you. Amazingly, up to 66% of parents who have tried this baby monitor rate 5 stars for it. And only 6% of people who have bad impression with this baby monitor. Read more here:
[scrapeazon asin="B00GU07FLQ" width="700″ height="400″ border="false" country="us"]
After reading hundreds of comments, both appreciations and claims, I find some interesting facts. Most of parent who rated 5 stars for this baby monitor find that it helps them sleep better. They said that their baby monitor didn't have any false on alarming during using time. And, sound and motion monitor provide double peace of mind to them. One more thing, they love temperature indicator because many times their baby cried at night when the temperature is too low.
However, some people claim that it is a little bit hard for them to set up sensor pad. So, at the first time, they think that the sensor pad has false alarms. Moreover, battery life is quite short sometime leading inconvenience when they have to store AAA battery to replace.
Pros and cons
Like any devices or products, there are strong and weak points and in this Angelcare AC401 review, we list out both pros and cons of this baby monitor. But the most important thing I want you to remember is that both pros and cons must be carefully weighted and considered. Therefore, you can see what ones mean the most and have the biggest impact on your unique situation and demand:
Pros:
Sensitive sensor pad and clear sound for superior monitoring
Good range
Compact and nice design
Customizable setting
Cons:
Not very easy to set up sensor pads leading to some false in alarming
Not very long battery life
Conclusion
In bottom line, I have no complains about this Angelcare baby monitor for what I receive from it. From what I find out and experience after time, I think it is most suitable for daily using at home. Its requirements for set up and its features is not very suitable for travelling. So, I recommend it for those who have newborn and want to have an all-in-one baby monitor in affordable price. Moreover, take note that this baby monitor is recommended to use for one baby rather than twins or two babies.

In addition, if you are now owning a sound baby monitor, I recommend you to find a best video baby monitor or a best wifi baby monitor such as DXR-8 as in our infant optics DXR-8 review because it help you to watch your baby.
I also do a post to compare baby monitors to help you have a comprehensive view about several type of baby monitor. And find out the best baby monitor 2017 which is best and most suitable for your unique situation.
I would like to stop here and I will come back with a post about best video baby monitors for twins – a post for those who have twins or two babies. Thank you very much for spending time for my articles and hope that all the best things come to you and your little one.